Petzl PRO Climbing Gear
Petzl Professional Climbing Products in Australia.
Heightech Safety Systems supplies Petzl climbing gear like harnesses, helmets, ropes, lanyards, karabiners and more. Talk to one of our specialists if you need help choosing from our wide range of Petzl height safety gear.
Petzl Australia - Download Free Catalogue for 2018 | 2019

What's In Rope Access Professional's Pack?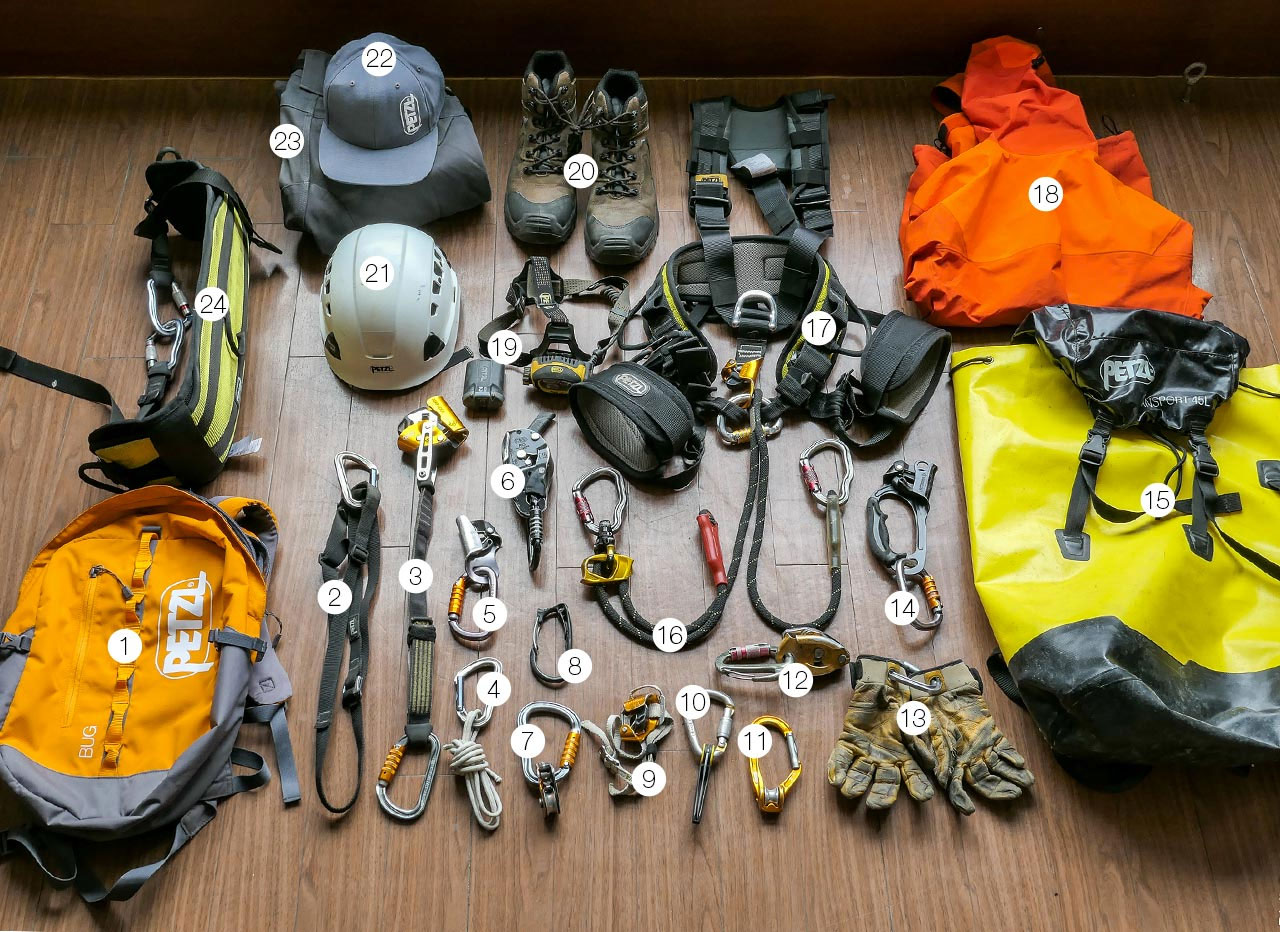 "When heading to a work site I bring:
A BUG backpack for all of my personal affairs, including my climbing shoes so I can go bouldering after work.
A FOOTAPE adjustable webbing foot loop for ascending ropes.
The ASAP® LOCK and ASAP'SORBER lanyard: this is the fall arrest device best suited for rope work since it follows you hands-free on both the ascent and descent.
A length of Dynemma® tech cord with a SPIRIT carabiner is always useful for an intermediate anchor or to hang gear.
A BASIC rope clamp: this lightweight and compact device serves as my backup rope clamp. You can clip it to your harness for hoisting or use it to replace an ASCENSION ascender.
A RIG descender: this self-braking, ergonomic system is easy to set up for descending a rope. With the ASAP fall-arrest device, these are the two primary devices rope access professionals use.
A lightweight and compact MICRO TRAXION progress-capture pulley. I keep this on my harness for any emergency hoists such as for a rescue.
A CARITOOL tool holder to clip gear to my harness.
A PANTIN® foot rope clamp is essential for ascending ropes quickly when using "alternating" technique.
A SPATHA knife for slicing salami at lunch as well as in an emergency, such as to cut a stuck rope or something else.
A ROLLCLIP pulley-carabiner, quick to set up at the top of a rope clamp for ascending a rope using the RIG.
A GRIGRI to stabilize a third rope in order to work via triangulation.
A pair of CORDEX gloves.
An ASCENSION rope clamp for ascending a rope of course, but also for hoists.
A TRANSPORT 45L pack for all of this gear.
A PROGRESS ADJUST lanyard: the non-adjustable part is clipped to my ASCENSION ascender and the adjustable side serves as a tether for intermediate anchors, zip lines, or other anchors. To unclip, I just create a little slack on the adjustable side.
A FALCON ASCENT harness certified for rope access work. This is the best-designed harness for ascending a rope quickly, along with the TOP CROLL® chest harness to clip my ASAP fall arrest device. The integrated CROLL® rope clamp serves to ascend a rope.
A waterproof jacket if it rains.
An ULTRA® VARIO headlamp to work at night or in confined spaces. Its major strong point: battery life.
A pair of safety boots.
A VERTEX® VENT helmet, comfortable and well-ventilated.
A Petzl baseball hat for excursions.
A pair of work pants.
A PODIUM seat to work comfortably in those situations where I spend several hours descending a rope. This is absolutely necessary to avoid any blood circulation problems in your legs that can be caused by hanging in your harness for too long."