Working at heights
A common cause of workplace injury in the construction industry is falls from heights. Whilst the number of injuries has decreased substantially over the past decade due to better education, legislative compliance and an increased use of handrails and work platforms - there are still injuries caused by falls from elevated work positions. Regardless of the height, most of these incidents can be avoided by using the right gear, the right way.
The statutory conditions for working at heights vary from state to state, but the most common requirement is that any person working at a height of greater than 1.8 metres below their feet (or at risk of falling 1.8 meters or more from one level to the next) must be protected.
Has your fall protection equipment become a risk hazard?
Like all manufactured product that is used frequently in industrial environments, fall protection equipment will deteriorate over time, and with use and exposure to the environment. This ranges from fraying and abrasion, to contact with contaminants such as dirt, petroleum products, chemicals and welding slag, as well as exposure to direct sunlight.
Experience shows that failure to have an inspection regime in place will, in the longer term, put both the operator and the employer at risk. Under the guidelines established in Australian Standard AS/NZS1891.4, fall arrest equipment such as harnesses, lanyards and pole straps must be inspected by the user, before and after each use and should have a registered or logged inspection every six months.
WorkCover NSW Health and Safety Regulations 2001 (Chapter 2, clause 15) requires the employer to provide Personal Protective Equipment (PPE) and ensure that the worker is informed of its limitations and given instruction and training in its use. This section also requires that the equipment is properly maintained; that the equipment is clean and hygienic and capable of being clearly identified. This requirement is mirrored in the various other state regulations around Australia.
Despite these requirements being in place, if you pay a visit to one of many work sites around Australia, you will find that fall protection equipment is not always inspected or properly maintained as required by the Australian Standard AS/NZS1891.4 or the state regulations.
The users are usually unaware of how to inspect and assess the usability of fall protection equipment, which often means that workers are wearing and using potentially dangerous gear. Unfortunately, despite details included within user instruction manuals as well as formal training programs being offered across the country, users of fall protection equipment in many cases still do not have the knowledge to ensure a thorough visual inspection of the equipment they use.
This results in the potential for faulty equipment to be used, resulting in injuries. Under the manufacturing Standard AS/NZS1891.1, harnesses, pole straps, energy absorbing lanyard and all webbing products have a 10-year life from date of manufacture, not the date of purchase, providing they are cared for and continue to pass both manufacturer and Standards guidelines.
With the proliferation of fall arrest equipment throughout the industry, there is more opportunity for such soft goods to age quickly, given the number of uses and work environments to which they are subjected. Consequently, this means the need to review the inspection process, as well as the qualifications of the equipment user and competent person responsible for maintaining records by the employer, is even more urgent.
In the end, the better the care of fall arrest equipment, the greater the confidence to ensure a high level of safe work at height, at a reduced cost.
Managing sharp edges
In many cases working at heights is undertaken using fall arrest products (lanyard, inertia reel etc.) with no leading/sharp edge capability. As part of the risk assessment process sharp edges can easily be overlooked, however a sharp edge presents significant risk of a fall occurring if using products without leading/sharp edge properties. This is especially the case if the worker is not square to their anchor point meaning there will be pendulum swing post fall where the material (cable or webbing) will be dragged across the sharp edge. In many cases this action will cut/break through the webbing or cable resulting in a fall.
Unfortunately, in most instances leading/sharp edge certified products need to be requested specifically as they were generally part of the "specialised" range that manufacturers offered. Skylotec has recognised this gap and has implemented leading/sharp edge certification throughout most of their fall arrest range. This includes the entry level adjustable BFD lanyard range, SKYSAFE Pro lanyard range, Peanut mini SRL range (single + twin models), ErgoGrip Type 1 Fall Arrest 16mm range and the Raptor SRL range in both webbing and cable.
The ABCD of fall protection
Choosing the right equipment to use when working at height in a fall arrest situation comes down to four easy steps: Anchorage; Body Support; Connectors and Descent/Rescue. The A, B, C, D of fall protection covers the fundamental requirements of every personal fall protection system and serves to remind operators and employers of the key elements required when working at height.
A - Anchorage
Anchorage provides a secure point of attachment (to an existing structure) for the fall arrest system. Anchorage devices can be permanent or temporary and vary to suit the type of structure available. Tether yourself to a secure anchor point. This can be a fixed point or a static line system but it must be capable of sustaining a force of 15kN for a single person application and 21kN for a two-person application.
B - Body Support
Full body harnesses connect the worker to the fall arrest system. They are specially designed to protect the worker against serious injury in the event of a fall whilst also remaining comfortable to wear. Use only a Standards approved full body harness that is within service, inspected prior to use and correctly fitted and adjusted.
C - Connectors
Connectors are devices that connect the full body harness to the anchorage system. They can be single products or multiple devices working together. This can be a shock absorbing lanyard with a maximum working slack of two metres or a self-retracting lifeline (SRL).
D - Descent/Rescue
Descent and rescue systems enable the retrieval of an injured or incapacitated worker. In the event of a rescue, this equipment facilitates rapid recovery of the worker without endangering other workers in the process.
Kits
Fall protection kits are a convenient option that covers all the aspects of the A, B, and C in a convenient kit form. They are available in a wide range to suit most industry applications.
Most importantly, never use fall protection equipment without first receiving competency-based training in working at heights and with fall protection equipment. There are many other aspects of fall prevention that must be considered prior to working at height, as incorrect use may lead to severe injury or even death in the most severe circumstances.
Webbing products
Webbing products include anything made predominantly from webbing, including items such as full body safety harnesses, lanyards, pole straps, and webbing anchorage devices such as tie-off adaptors, round slings and other items designed for fall arrest.
Webbing products require inspection prior to and following each use by the user, as well as inspection by a Competent Person every six months. Like any manufactured product, there are many potential hazards in product performance once it is exposed to the work environment. Webbing products can become frayed, burnt, receive cuts, abrasion, be subjected to welding spatter, or be exposed excessively to light or heat. Any deployment of a shock absorber on a lanyard is cause for the removal of the product immediately from service.
Tying a knot in a webbing product also significantly weakens its ability to take a load (by as much as 50%) and therefore highlights the need to pay close attention to the effects of environmental conditions on product performance.
These elements all need to be considered in a product inspection routine and remind the user of a commonly coined term in industry – "if in doubt, tag it out".
Type 2 and Type 3 devices
Type 2 and 3 devices are considered one of the most effective fall arrest devices available, although they require a more frequent regime of inspection due to their construction and performance requirements. The Standard requires them to be inspected before and after use by the user, as well as a registered inspection at a minimum of every six months by a Competent Person.
In addition, each device must be returned to the manufacturer for service/inspection annually, or within the recommendations of the manufacturer – whichever is the lesser for serviceable blocks. This service/inspection requires each self-retracting lifeline to be opened by the manufacturer or their appointed service agent to perform the relevant maintenance required to bring the product back to peak performance.
Record keeping systems
The most common forms of record keeping include anything from a paper-based record system or electronic spreadsheets, to tagging the product with inspection details (provided only by some manufacturers). The system does not need to be complex; it should be simple and easy to understand and implement.
Nobles Tech-Inspect asset management system provides an online portal for all product information, service history and records and reports that can be accessed anywhere, at any time. Such a system offers enormous advantages for companies with large fleets of height safety equipment across multiple sites. Companies can effectively have visibility over the entire fleet without the hassles of sending spreadsheets or faxes to one another. The process also reduces confusion over equipment being transferred across multiple sites.
Inspect your inspection routine
Anecdotal evidence suggests the majority of owners and users would follow inspection guidelines if they understood them, so education is vital. Under the Australian and New Zealand Standard, AS/NZS 1891.4, Care, Use and Maintenance of Fall Protection Equipment, the frequency of inspection guidelines is as follows: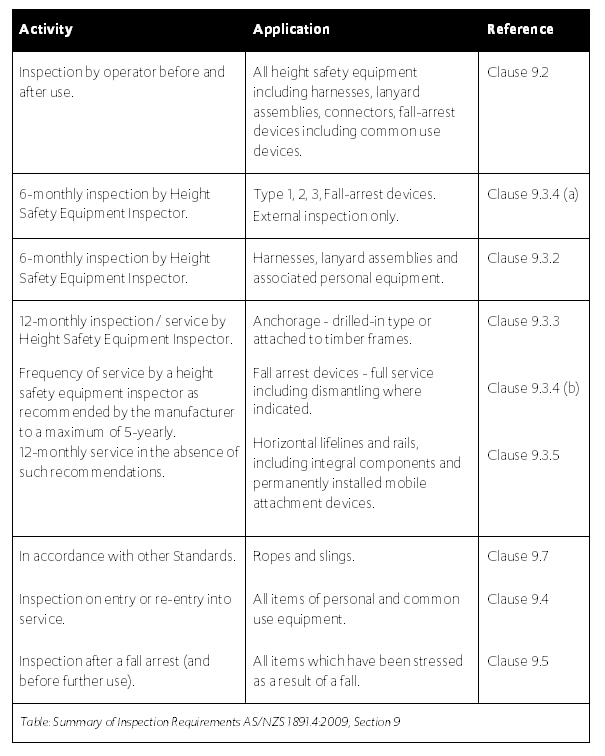 To fulfil requirements under AS/NZS 1891.4, the user must understand the standard definitions and implement recommendations for the relevant piece of equipment being used.
A Competent Person is defined as 'a person who has, through the combination of training, education and experience, acquired the knowledge and skills enabling that person to perform a specified task'. While there are a number of people who may have been involved in the height safety industry for many years that could claim this title, employers cannot rely on experience alone to develop this capability.
Training in height safety equipment inspection is a service offered by a number of entities and is encouraged as a suitable method of developing this competency. Every company operating a fleet of height safety equipment should develop an internal competency or engage a third party to perform this vital task.
The best way to source a Competent Person is to:
a. become one yourself through training, certification or experience
b. train someone in your organization to become one
c. seek out professionals in industry to perform the inspections on your behalf
d. seek advice from the manufacturer as to who they would recommend as competent to inspect the equipment.