The Northern Territory Coroner's Court has referred the death of a rigger, who fell 66 metres from a Telstra tower near Darwin last year, to the Northern Territory's Police Commissioner and Director of Public Prosecutions.
The inquest into the death of 43-year-old Damien Kyle-Little found the Ozziebuild subcontractor climbed a remote area Telstra tower without a harness to retrieve his tools as a storm approached on February 3, 2016.
Mr Kyle-Little hit the tower several times as he fell and sustained multiple injuries.
He was conscious for about half an hour afterwards, and while triple-0 was called immediately, a CareFlight helicopter was not available because it was being serviced.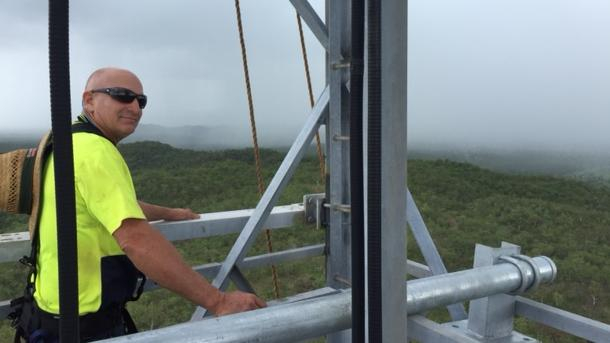 Damien Kyle-Little at the top of Fountain Head tower south of Darwin. Photos recovered from his phone show the experienced rigger had taken selfies with his harness removed the morning he fell more than 60 metres to his death.
A police search of Damien Kyle-Little's mobile phone found a series of photos he had taken of himself up the Fountain Head Tower, 165km southwest of Darwin, showing him with his rigging harness at least partly removed.
Mr Kyle-Little, who was working for a Telstra subcontractor, fell after climbing back up the tower without a harness to retrieve tools left behind over lunch.
Rod Teece, who had been up the tower with Mr Kyle-Little that morning, said the group had decided to finish work for the day because of an approaching storm.
He said Mr Kyle-Little was "happy, cruisy, his normal funny self" during the lunch break before the fall.
Boss Steven Teece said Mr Kyle-Little was skilled at his job and fastidious about safety.
"I don't think he was cocky, (his experience) just gave him a level of confidence," he said.
Site boss Michael Bairamis, said he would have sacked Mr Kyle-Little had he known he had been taking "selfies" of himself with his harness even partly removed.
"I didn't think it was essential (for Mr Kyle-Little to get the tools down from the tower) and worth another climb because it's exhausting," he said.
None of Mr Kyle-Little's co-workers saw him start climbing without his harness on.
Deputy corner Kelvin Currie said he found it difficult to reconcile Mr Kyle-Little as being both a workplace joker and a safety fanatic.
Outside court, Mr Kyle-Little's older brother, Scott Kyle-Little, said his family wanted to see a back-up helicopter when CareFlight's main helicopter was down for servicing.
In referring the matter to NT Police, deputy coroner Kelvin Currie pointed to potential breaches of the Work Health and Safety (National Uniform Legislation) Act.
"I believe offences may have been committed in connection with the death of Damien Kyle-Little and … I report my belief to the Commissioner of Police and the Director of Public Prosecutions," he said.
Kyle-Little wore no harness, took selfies
But in his findings Mr Currie questioned safety practices at the site, saying "not all the evidence supported a picture of a controlled safety conscious work environment".
"Indeed the very act of Damien climbing the tower without his harness (or other Personal Protective Equipment) seems most unlikely in such an environment," Mr Currie said.
Basic rigger Rod Teece told the inquest neither he nor Mr Kyle-Little connected to the tower when climbing it and that his colleague would change from the required hard hat to a cap when they got to the necessary height of the tower.
"If neither Rod nor Damien were in the habit of connecting their harness to the tower for the climb, it would be somewhat surprising it was not known to others at the site," the deputy coroner wrote.
The report detailed how Mr Kyle-Little took selfies of himself on the morning he fell, showing his bare chest and shoulders in the images, although Mr Currie noted it was not possible to tell if he had completely removed his harness.
Work safety methods onsite not carried out
Mr Currie subsequently found work at the site was not carried out in accordance with Ozziebuild's safe work method statement.
"At no time did Damien have a basic rigger's licence … and the persons climbing the tower did not have attachment [to the tower] 100 per cent of the time," Mr Currie said.
He also said Mr Kyle-Little did not have a high-risk work licence and disputed findings from NT WorkSafe which determined the rigger did not need such a qualification.
The findings noted NT Worksafe's 2016 investigation did not proceed with punitive action and listed comments from its director of operations, Neil Burgess, stating Ozziebuild had taken "all reasonably practicable steps to mitigate risks".
CareFlight helicopter undergoing maintenance on day of accident
On the day of Mr Kyle-Little's death, the CareFlight helicopter was undergoing scheduled maintenance and calls were made to use a military chopper out of Tindal Airport, but the helicopter did not typically have medical crew on board and it was not available.
Mr Currie said while CareFlight would not have been able to reach the site in time, "it is curious that there were no arrangements to use another helicopter should the need arise while the CareFlight helicopter was being serviced".
He urged CareFlight to consider such arrangements for emergencies in advance of scheduled maintenance.
The deputy coroner referred the matter to NT Worksafe.
Sources: news.com.au, ntnews, abc news