PC1 Event - Fall from Height
Date of event: 02.06.2018
Division: Asset Services
ALERT UPDATE 14/06/18
There was an incident at a UGL client site on 2 June 2018 in which an Advanced Scaffolder sustained a fall. During the fall, the Miller TurboLite Personal Fall arrester webbing anchorage line fully sheared.
As a result, UGL have had three Miller TurboLite fall arresters from that site tested by an independent expert under AS/NZS 1891.3 / NE360.
These three fall arresters were manufactured between August 2015 and February 2016.
Upon independent static testing of two devices, both devices failed (the webbing anchorage line failed).
Upon independent dynamic testing of one device, it failed (the webbing anchorage line failed above the inline fall indicator / shock absorber).
Further investigation is required in relation to the webbing strength and UV degradation requirements of AS/NZS 1891.1 / AS/NZ1891.3.
UGL has removed all devices from its projects and is currently undertaking the following actions:
seeking further information from the manufacturer to determine if the units comply to AS/NZS 1891.1 and 1891.3 in relation to webbing strength and UV degradation; and
undertaking testing of units from other sites.
Organistations should undertake their own assessment of the use of these devices and contact the manufacturer for any further advice.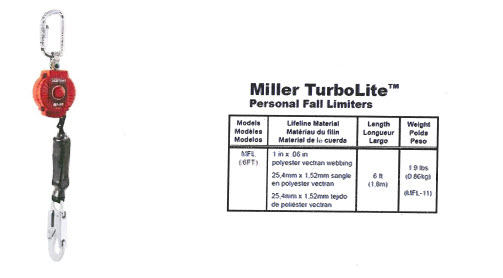 Summary of Event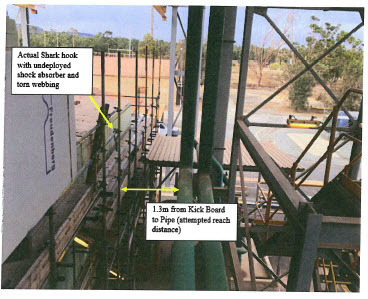 During scaffolding installation at a height of approximately 5m, an Advanced Scaffolder stepped off a scaffold to access part of the building structure. Whislt stepping onto the structure the retractable lanyard reportedly engaged, resulting in a loss balance and fall.
At some point in the fall the lanyard webbing below the shock absorber fully sheared. The worker's actual fall height was approximately 4m, and he suffered a dislocated shoulder.
Note: The shock absorber did not deploy and was located at the shark hook anchor point to scaffold.