The range comprises the VERTEX and ALVEO models and each model is available in the VERTEX BEST & VERTEX VENT or ALVEO BEST & ALVEO VENT version. Complimenting the helmets is a range of accessories to ensure they're fully kitted out to take on any job, in any setting.

They provide optimal protection for work at height, with features including:
- shock absorption achieved through deformation of the outer shell
- its closed shell offers protection against electrical risk and molten metal splash
- strong chinstrap (more than 50 daN) limits the risk of losing the helmet during a fall
Very comfortable to wear:
- six-point textile suspension conforms perfectly to the shape of the head
- CenterFit adjustment system adjusts the headband and keeps the helmet centered on the head
- comes with two sizes of headband foam
Many accessories are available in order to adapt the helmet to its use:
- PIXA or ULTRA VARIO headlamp (front and back slots)
- headlamp with elastic headband (headlamp clips)
- VIZIR, VIZIR SHADOW or VIZEN protective shield (side inserts)
- hearing protection (side slots)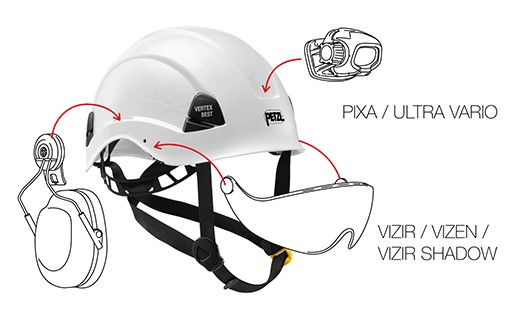 Petzl offers two eye-shield protection options. Called the VIZIR(clear) and VIZIR SHADOW (tinted). Both integrate perfectly into the VERTEX and ALVEO helmets. Installing easily into the custom designed inserts. Both are treated to be scratch resistant and anti-fog, this can be maintained using Petzl's special wipe on formula, available for purchase. They are certified to CE EN 166:2002 - Personal eye protection. Equivalent to AS/NZS 1337.1:2010 - Personal Eye Protection.

The VIZEN, full-face shield completely protects face against the risk of electrical arc. It also easily installs via the custom inserts and smoothly pivots from work position to storage position on top of the helmet. It too is treated to be scratch resistant and anti-fog, also maintained using Petzl's special wipe on formula, available for purchase.
Petzl helmets are inherently compatible with their full range of Professional, hands-free headlamps. Including their, 'High performance', 'Compact rugged', 'Ultra-compact' and 'Versatile' lighting solutions.
For non-Petzl helmets, the 'Headlamp Clip' small or large can be used to secure a headlamp with an elastic headband.
Hearing Protection.
The integrated, universal side-slots of the VERTEX and ALVEO helmets are designed to fit numerous brands of earmuffs: Compatible hearing protection.