Stop Use & Recall Field Service Action
IMMEDIATE ACTION REQUIRED
3M™ DBI-SALA® 16 Foot Talon™ Self Retracting Lifeline
Only Affects Lot Codes 12092430 through 18062730
3M Fall Protection has detected a small quantity of DBI-SALA® 16 Ft. Talon™ Self Retracting Lifelines that are defective due to an assembly error. This notice only applies to the 16 ft version of the Talon; no other versions of the Talon are affected by this condition. There have been no reports of fall-related injuries associated with this condition. However, this assembly error would result in the unit not arresting a fall, which could result in serious injury or death.
To remedy this situation, 3M is launching a global Stop Use & Recall Field Service Action to inspect, repair or replace all 16 ft. Talon Self-Retracting Lifelines with lot codes 12092430 through 18062730.
Parts produced before or after this lot range are not affected by this notice.
Affected part numbers are: 3101048 and 3101050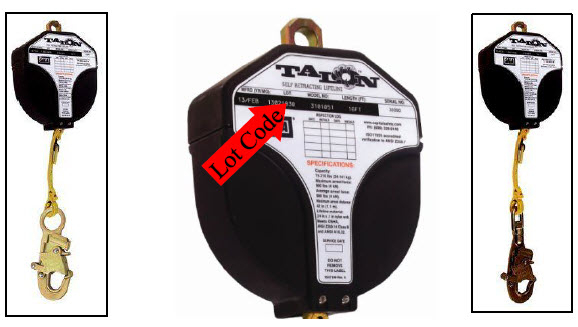 End-users: Immediately stop using and inspect all 16 ft Talons. If you find an affected 16 ft Talon, take the unit out of service immediately and contact a 3M Certified Repair Facility near you.
The certified repair facility will coordinate pick up of affected inventory and complete the inspection and possible repair. The talon will also undergo a standard service at the same time at 3M's expense. If you would prefer a replacement product you may nominate that as an option. Please be advised that full product replacement may take longer as stock is very limited. 3M Australia do not anticipate arrival of replacement product until late October 2018.
3M remains committed to providing quality products and services to their customers. 3M apologizes for any inconvenience that this situation may cause you. 3M appreciates your continued support of their Fall Protection products and services.
If you have further questions, please contact the ANZ 3M Fall Protection Quality Team ANZFallProtectionQuality@mmm.com