ERGO iPlus harnesses are our premium range of products and showcase some of our latest technology. Starting with the revolutionary, patented iWeb™, inspection-ready webbing which gives, for the first time, an objective inspection criteria for cuts and abrasion.
Additionally, after many years of research we have arrived at our premium padding offer which, in the case of our ergonomically supportive waist belts, delivers on the ventilation performance so many have promised but failed to deliver.
Comfortable enough to wear all day long these reliable harnesses are certified to AS/NZS 1891.1 and supported by a NATA accredited compliance and batch testing regime.

Spanset iWeb™
SpanSet's revolutionary, patented iWeb™ inspection-ready webbing which gives, for the first time, an objective inspection criteria for cuts and abrasion.
"i" is for inspectable, and this patented webbing has been woven with a load bearing indicator core, encased by a further load bearing outer case. When inspecting for cuts or abrasion, simply look for any signs of red yarns showing through the outer silver casing and you have the discard criteria.
This removes the subjective, often mood and opinion based inspection criteria which regularly leads to the condemnation of otherwise good harnesses, another demonstration of SpanSet's commitment to offering our end user customers value, without compromising safety.
SpanSet Patented iWeb™ is a unitary construction as opposed to a tubular configuration. This construction method allows more consistency and, importantly, a tougher weave with low friction characteristics leading to longer lasting harnesses and lanyards. Excessive abrasion or edge cuts are now easily identified by the red core marker giving an absolute objective discard criteria. Currently available on all Ergo iPlus Harnesses.

Inspection-ready webbing
To inspect your harness, simply look for visible red yarn that clearly marks cuts and abrasions. If the inner red core is visible upon inspection, then the harness must be removed from service.
iWeb™ allows the end user to constantly monitor the condition of their own harness, although it must still be checked by a competent person on a 6 monthly basis, in accordance with AS/NZS 1891.4

Xtreme-Guard Webbing with Self Healing Matrix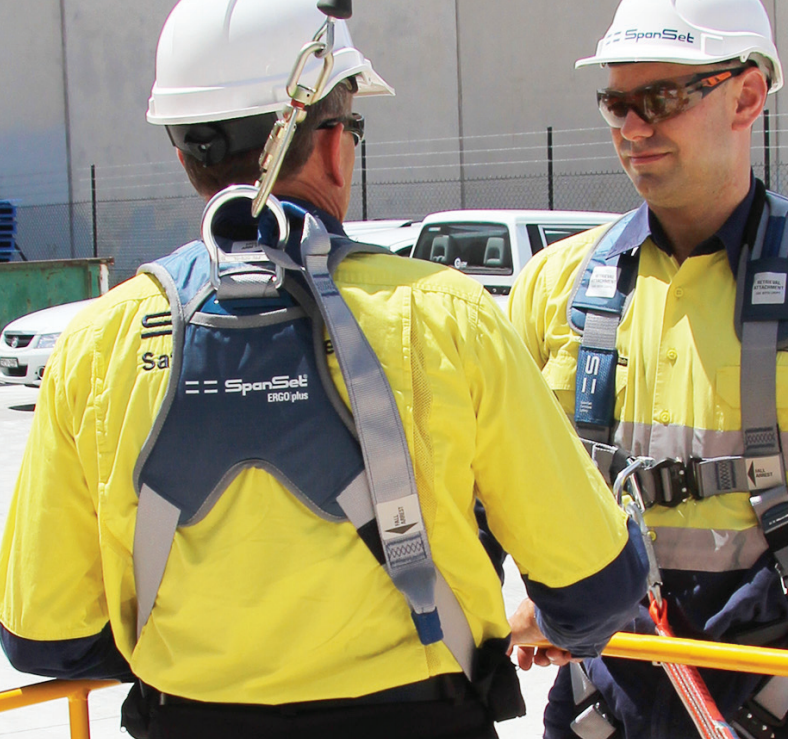 A super soft feel webbing which has been treated with a non toxic compound to maximise oil and water resistance. This makes cleaning a much easier task and enhances abrasion resistance. The treatment will self repair should the extremely thin polymer coating become damaged, due to its plasticine like flow qualities and the ability to re-close mechanically.
Xtreme Guard webbing comes standard on Spanset ERGOiPlus Harness Range.
Spanset ERGOiPlus Harness Range
BACKORDER Express Shipping Available @ Checkout

BACKORDER Express Shipping Available @ Checkout