HOW TO SELECT THE RIGHT HYDRAJAWS PRODUCT.
Hydrajaws is available in several models of tester and some are available in a variety of kits with different accessories - so how do you know which kit is right for you?

Follow these simple steps and you will find the right kit with the right accessories for all your current and future jobs.
Step 1 - What are you testing?
Firstly, decide the sort of things you will be testing. Is it safety lifeline cable, Scaffold tie anchors, wall ties, bolts, studs or a different type of fixing. List all of the type of things you will likely to be testing in the future.
Secondly, decide what loads you will be testing up to. Our tester models are designed and built for a specific range of loads.
Try to match you target loads as close as possible to the model range and don't be tempted to go higher for the sake of it (e.g. although a
model 2008
will test as low as 10kN it is not as accurate as a
model 2000
will be at that range).
Step 2 - Product Selector Flowchart
With the information in step 1 follow our Product flowchart below.
By answering the questions you should end up at a suitable Hydrajaws kit.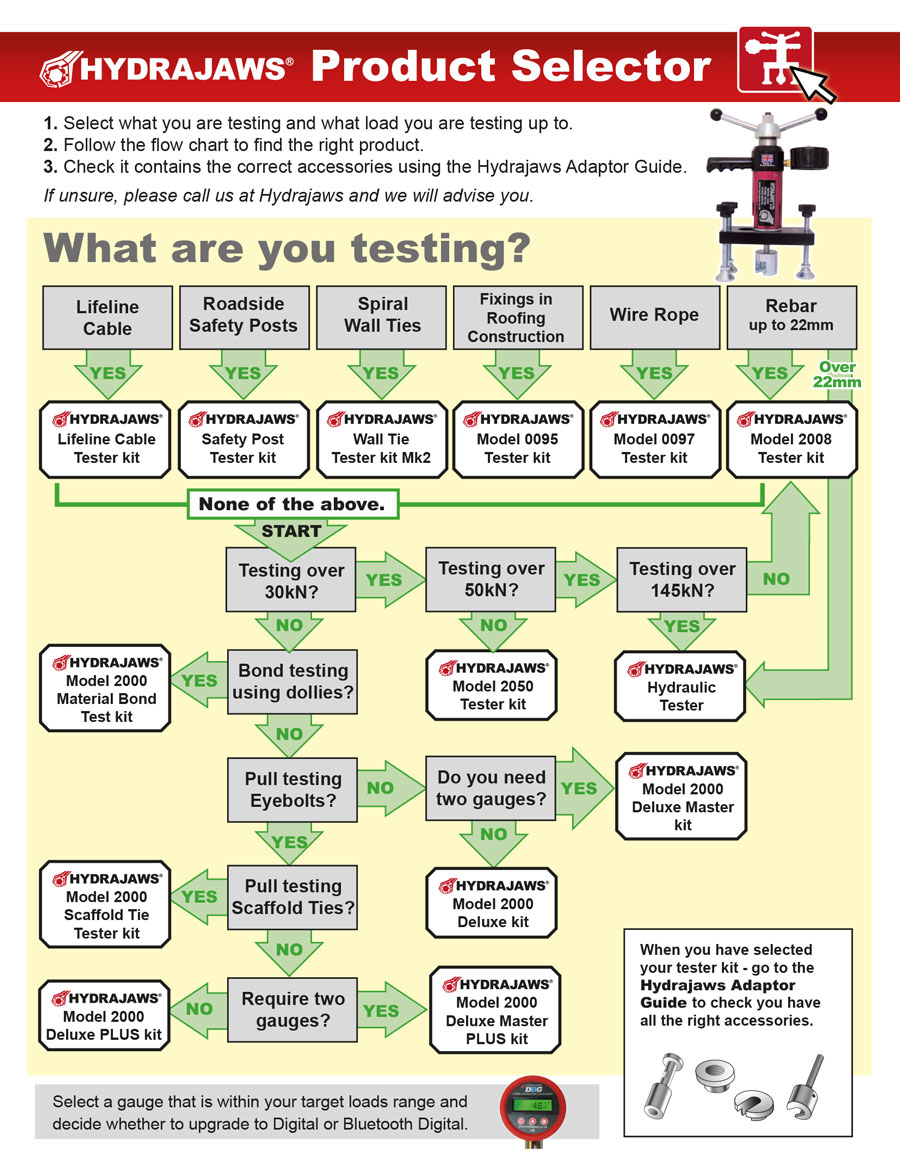 Select a gauge that is within your target loads range and decide whether to upgrade to Digital.
Step 3 - Check the accessories.
With a list of the contents of the kit selected in step 2, check you have the necessary accessories for all the fixings you will be testing by checking our Hydrajaws accessories chart below: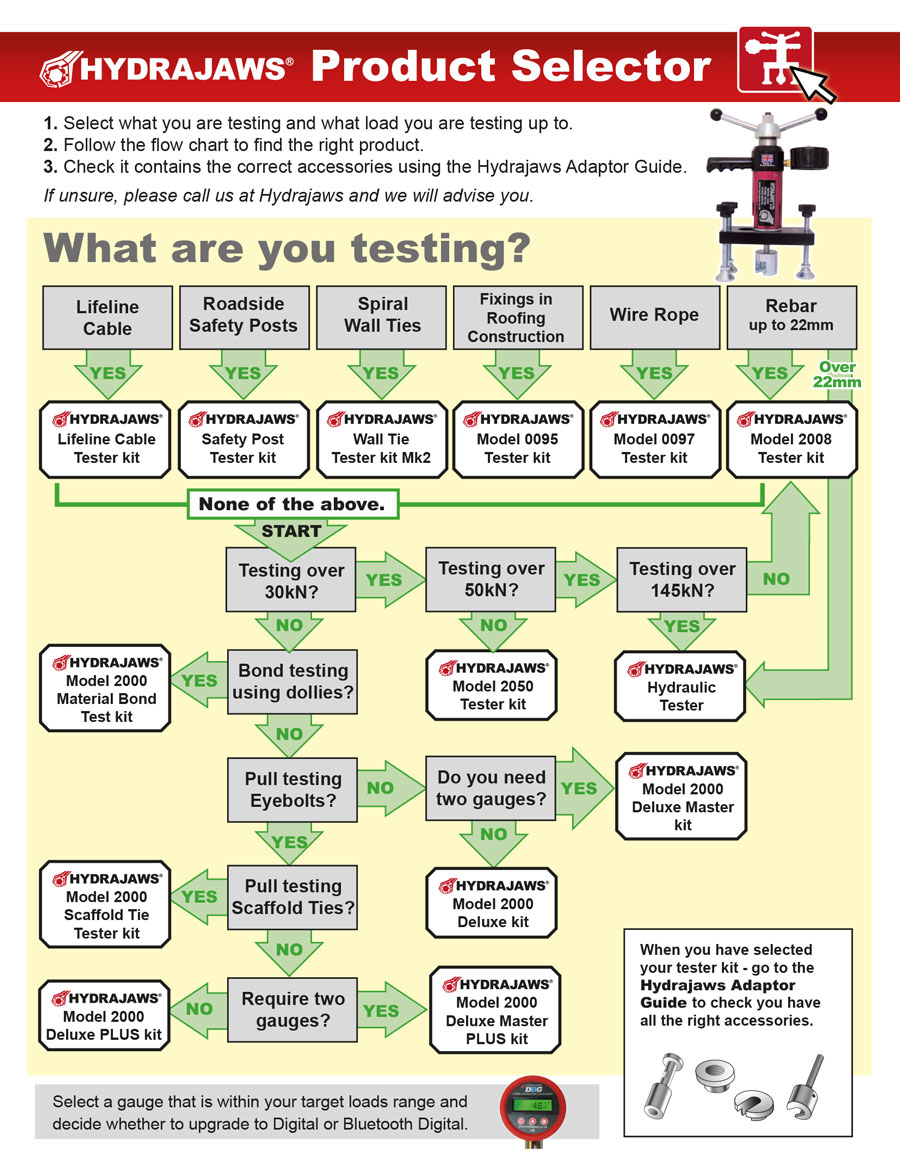 If an accessory is missing then it can be purchased separately from us (see price list). If many accessories are missing then it may better to purchase a 'PLUS' tester kit which has a comprehensive range of extras to cover most testing jobs.
Step 4 - Consider optional extras.
At this stage it may be worth considering these optional extras to make life easier and jobs quicker.
Extension bridges.
If your tester is not big enough to sit over a fixing then consider our larger extension bridges. The footprint of all our bridges (standard and extension) are available online to check if you think space is an issue.
Hydrajaws Extension Bridges and Legs.
Bluetooth Digital Gauge.
Most of our customers are now moving on from the standard analogue gauge and offering the most accurate and 'cutting edge' service to their customers by using a Bluetooth Digital gauge.
This hi-tech gauge makes testing easier and more accountable by proving on-site results and reports in a PDF format that can be sent directly to customers.
Hydrajaws Bluetooth Digital Gauge Datasheet.
If still unsure about the right Hydrajaws product for you then contact us at Heightech Safety Systems.
You can purchase all these Hydrajaws models here in Australia. We deliver to all states New South Wales, Queensland, Western Australia, Victoria, South Australia, Northern Territory, Tasmania, Australian Capital Territory.