The oil bottle is provided with Hydrajaws Model 2000 and Model 2050 testers to allow the user to top up the oil reservoir should this be necessary.
The need to perform an oil top up will vary depending how much the tester is used, in fact how many times the Hydrajaws gauge is removed from the device is the deciding factor.
The oil loss is small but does occur every time the gauge is removed, therefore overtime this essential but straight forward onsite maintenance is necessary.
If the Hydrajaws tester is allows to run out of oil then the tester will stop working though is fully recoverable.
Assuming the tester features a detachable gauge arrangement - the tester may simply be out of oil. Follow the oil fill procedure to refill the tester using the dedicated oil bottle.
Hydrajaws Oil Refilling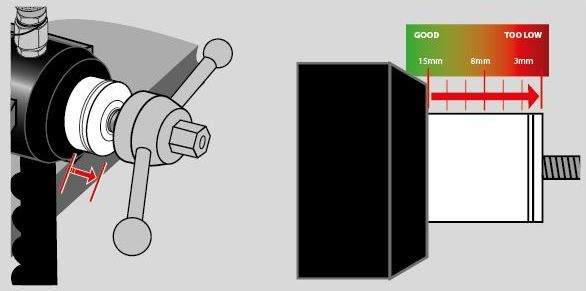 Connecting and disconnecting Gauges from the Tester body will eventually use up the tester plunger to travel it's full stroke or give an accurate reading on the gauge.
Eventually the plunger will stop at approx. 3mm from edge and indicate that oil is too low.
On the Model 2000 and Hydrajaws model 2050 testers, running out of oil will result in the cylinder recessing into the black handle capsule.(see below)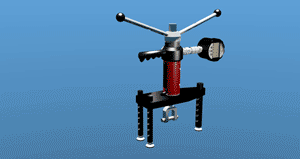 Please see the oil filling instructions for your tester
Hydrajaws Oil Replenishment
The most common question we receive is regarding replenishing the oil reservoir in our testers.
Please following the links below for instructions of how to fill the oil in the
Hydrajaws testers
.
Hydrajaws 2000 Oil Filling Instructions
Hydrajaws 2050 Oil Filling Instructions
Hydrajaws 0095 Oil Filling Instructions
Hydrajaws 0097 Oil Filling Instructions
What oil type is recommended?
Should you need to, one can purchase the oil locally which is recommended rather than Hydrajaws supply it.
Any light mineral hydraulic oil will suffice. The important element of the specification is ISO Viscosity Grade 32.
Oil Type:
DTE type light mineral hydraulic oil
ISO Viscosity Grade 32
Oil Refilling a Hydrajaws Tester Video