ROOF HANDLES GENERAL SAFETY RULES. WARNING! PLEASE READ AND UNDERSTAND ALL INSTRUCTIONS.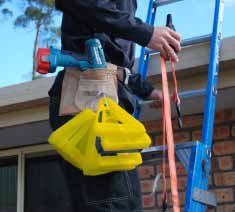 STEP 1
Securing your ladder. You will need: 1 x ladder, 2 x Roof Handles, 1 x ratchet strap.
Lean ladder up against gutter.
Climb ladder until the row of roof fixings closest to the gutter become visible.
Attach 2 roof handles by backing out tek screw, attaching Roof Handle and retightening screw.
Roof Handles should be attached roughly at the same width as the ladder.

STEP 2
Attach one end of a ratchet strap around the 'tread section' of the Roof Handle by threading the strap through the Roof Handle and hooking the strap back onto itself. It is important not to attach the hook of the ratchet strap directly to the handle itself.

STEP 3
Pass the other end of the strap around the ladder and secure it in the same way as was done in Step 4 to the other Roof Handle.
Tighten ratchet strap so that ladder is secure but gutter is not being crushed.

STEP 4
Once ladder is secure, climb on to the roof and begin attaching Roof Handles in the direction that you wish to go.

STEP 5
Back out existing screws, place RooFHandles over screw making sure the screw goes through the keyhole in the top.
Tighten screw back down firmly making sure not to over tighten crushing the roof sheet.

STEP 6
Continue with more RooFHandles until you reach your destination.
If removing Roof Handles, back screw out, remove Roof Handle and retighten screw.